The sidebar is a feature in Windows Vista/Windows 7 that uses a lot of system  memory. If  you have the minimum system configuration to run Vista and if  the sidebar is  enabled in your system, then it will reduce your system  performance and  thus slow down the system. Disabling the sidebar will solve  this problem and  by disabling it, you can speed up your system. For  disabling the sidebar in  Windows Vista/Windows 7, just follow the simple  steps given below.
1.Right-click the sidebar icon located near the clock display in the taskbar.
2.Select the 'Properties' option.
3.Clear the 'Start Sidebar when Windows start' checkbox.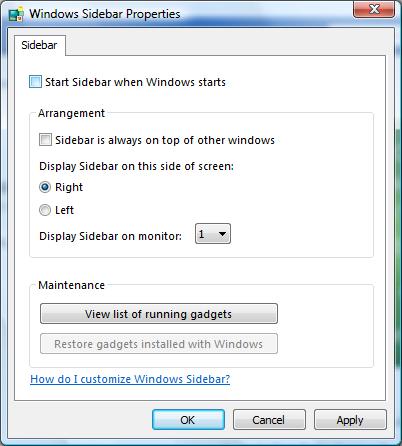 4.Click 'Apply' and then 'OK'.
5.To exit the sidebar, right-click the sidebar icon, click exit and in the window that appears, clear the 'Start Sidebar when Windows starts' checkbox and click 'Exit Sidebar'.
Now, the sidebar would be disabled in your computer.